Regular price
Sale price
$42.99 USD
Unit price
per
Sale
Sold out
Share
(Note: all Psalms citations and numbering are according to the Septuagint, as traditionally used by the Orthodox Church.)
In Psalm 118, verse 164 we read:
"Seven times a day have I praised Thee for the judgements of Thy righteousness."
From ancient times God's chosen of the Old Covenant were instructed in the rites of prayer, including prayer times. In the New Covenant, God's chosen, the Church, adhere to this same paradigm of a daily repeating cycle of seven more or less fixed prayer "hours":
Vespers: 6 PM
Compline: 9 PM
Midnight Office: 12 AM
Matins & First Hour: 6 AM
Third Hour: 9 AM
Sixth Hour: 12 PM
Ninth Hour: 3 PM
The New Covenant's keeping of this cycle is further signified by how it accords with the salvific events of Holy Friday and further symbolism as reflected in the Psalms assigned to each hour:
First Hour: Christ's Arrest
Dawn, the "sunrise/orient from on high" (Zech. 6:12, Luke 1:78), Christ's resurrection. Psalm 5: "In the morning Thou shalt hear my voice. In the morning shall I stand before Thee, and Thou shalt look upon me; for not a God that willest iniquity art Thou." 
Psalms 5, 89, & 100  are read.
Third Hour: Christ's Sentencing by Pilate
The hour the Holy Spirit descended on the Apostles at Pentecost (Acts 2:15). Psalm 50: "Cast me not away from Thy presence, and take not Thy Holy Spirit from me."
Psalms 16, 24, & 50 are read.
Sixth Hour: Christ's Crucifixion
"There they crucified Him... It was now about the sixth hour" (Luke 23: 33,44). 
A prayer of the sixth hour: "O Christ God, on the sixth day and hour, You nailed to the Cross the sin which rebellious Adam committed in paradise."
Psalms 53, 54, and 90 are read.
Ninth Hour: Christ's Death on the Cross
"And at the ninth hour...Jesus uttered a loud cry and breathed his last" (Mark 15: 34,37).
A prayer of the ninth hour: "O Christ God, at the ninth hour You tasted death in the flesh for our sake: mortify the rebellion of our flesh and save us!"
☦️☦️☦️
Subscribe to product updates to be notified when new products are added!
☦️☦️☦️
Clock features:
10 inches in diameter
Wooden frame
Plexiglass face
Pre-installed backside hook
For indoor use
Requires one AA battery (NOT included)
Silent clock mechanism
View full details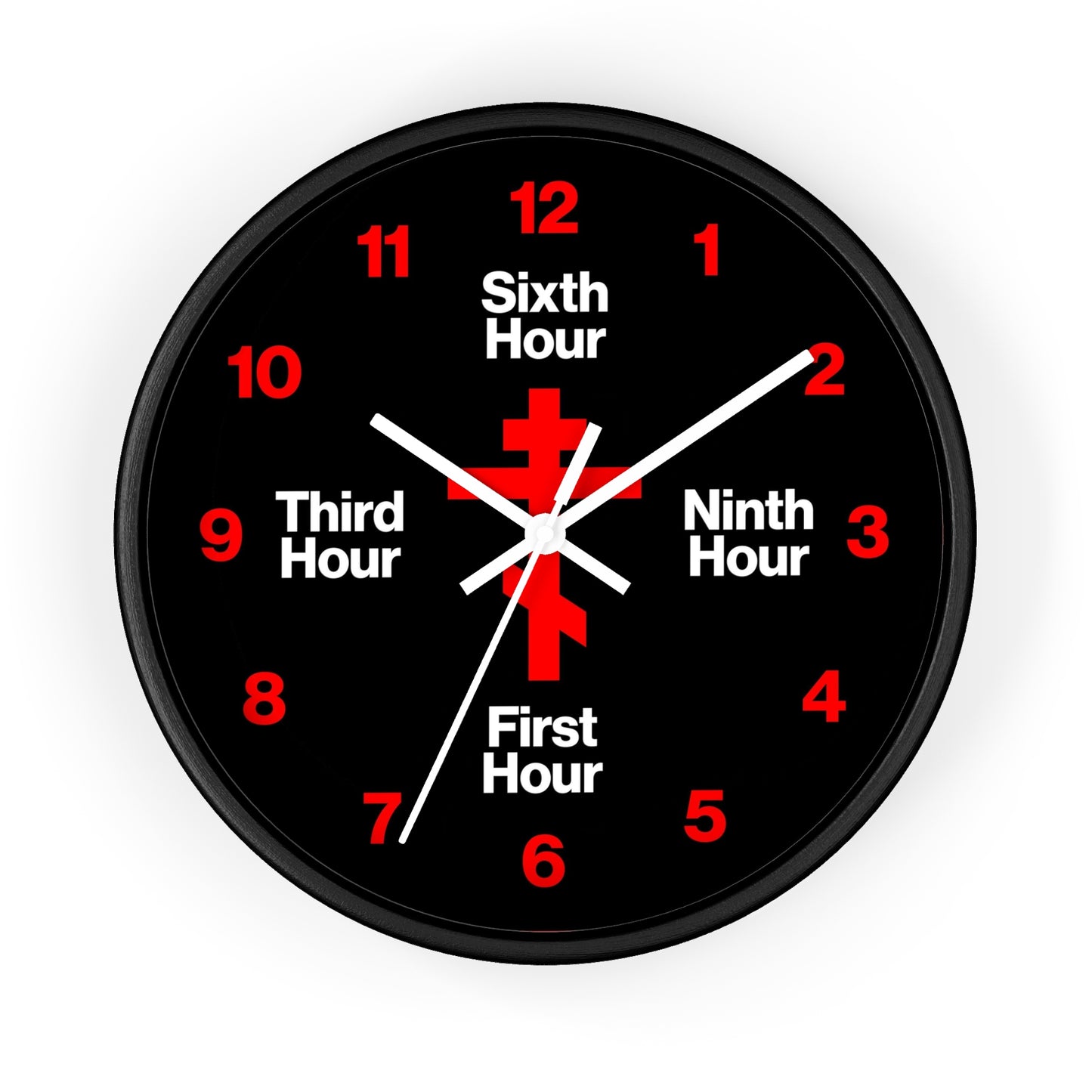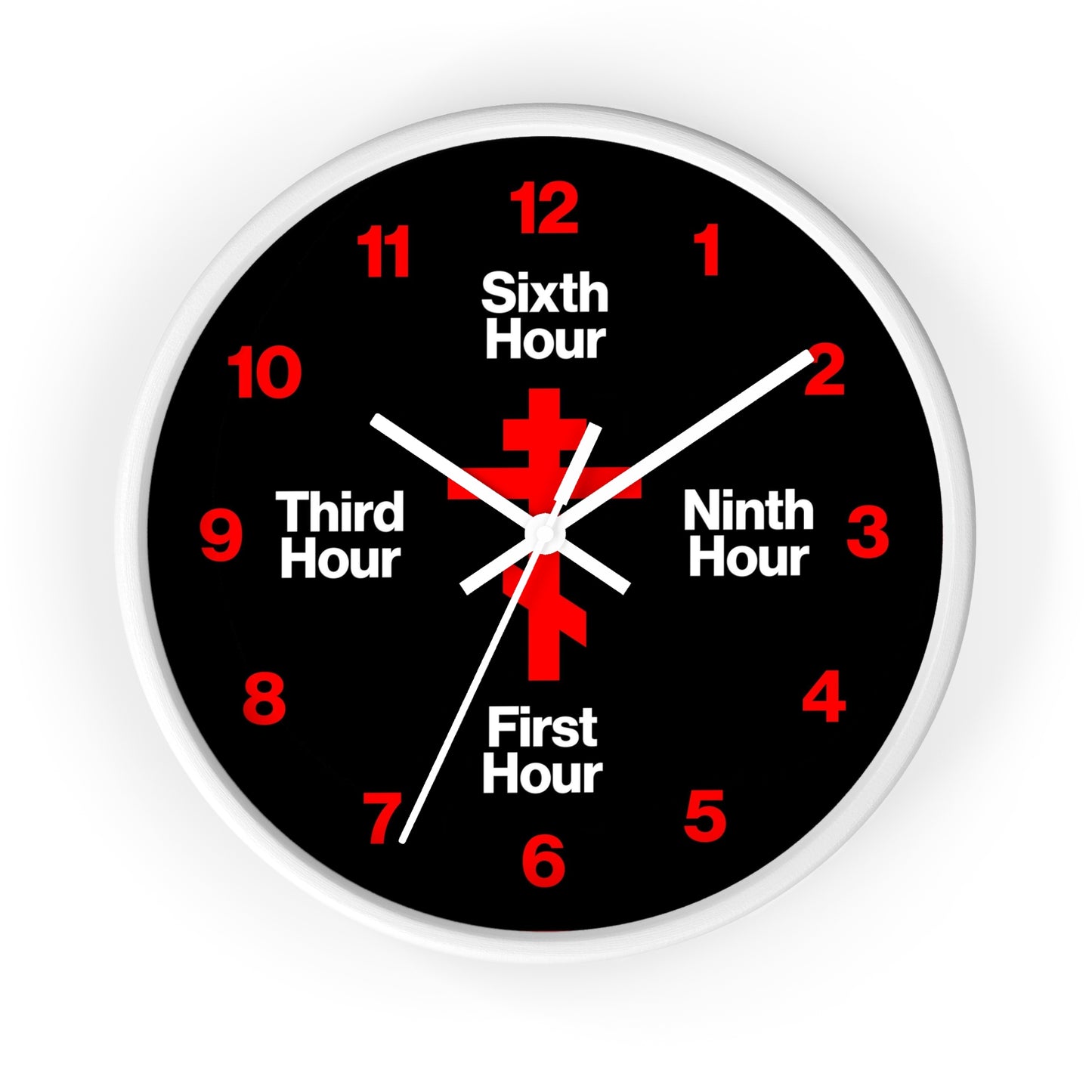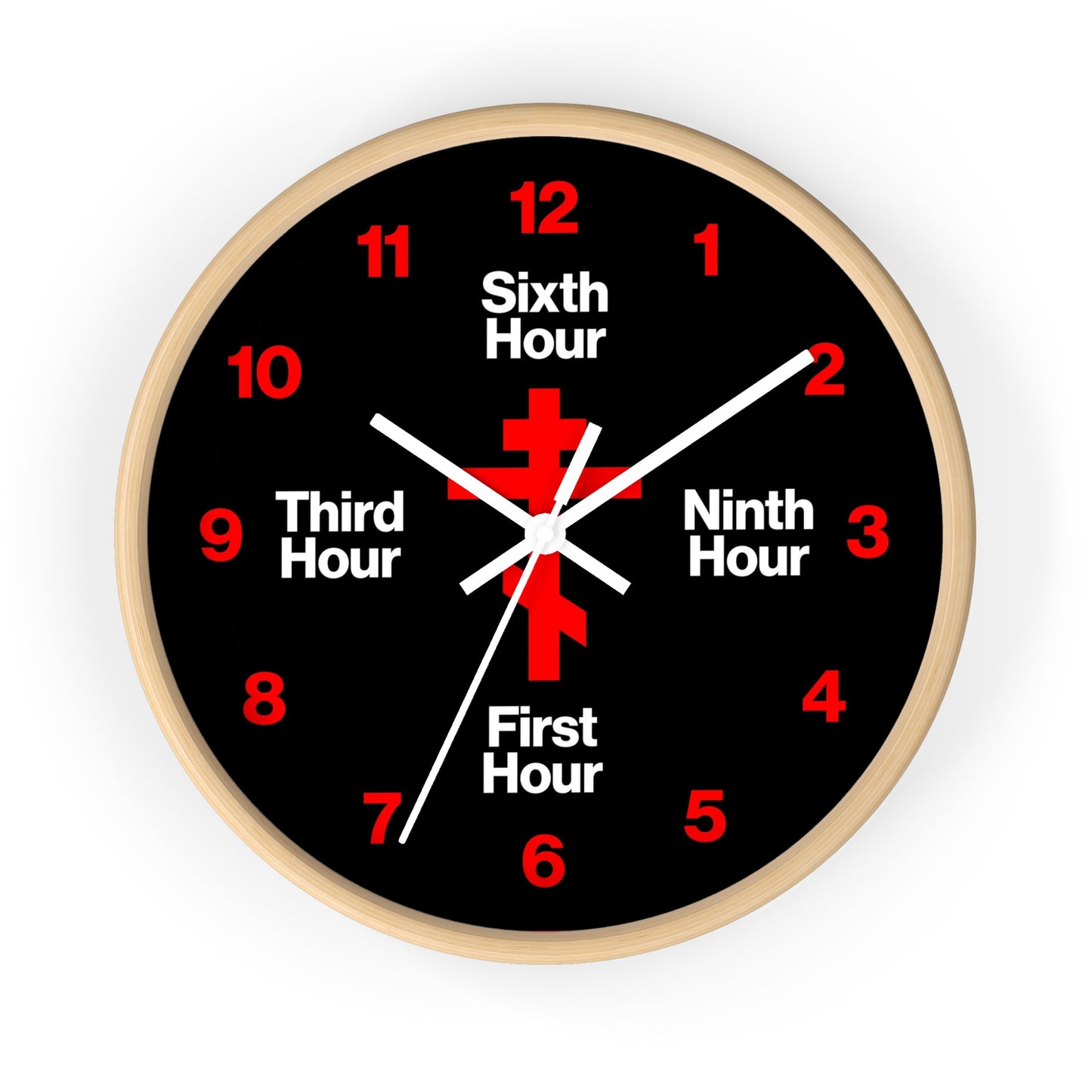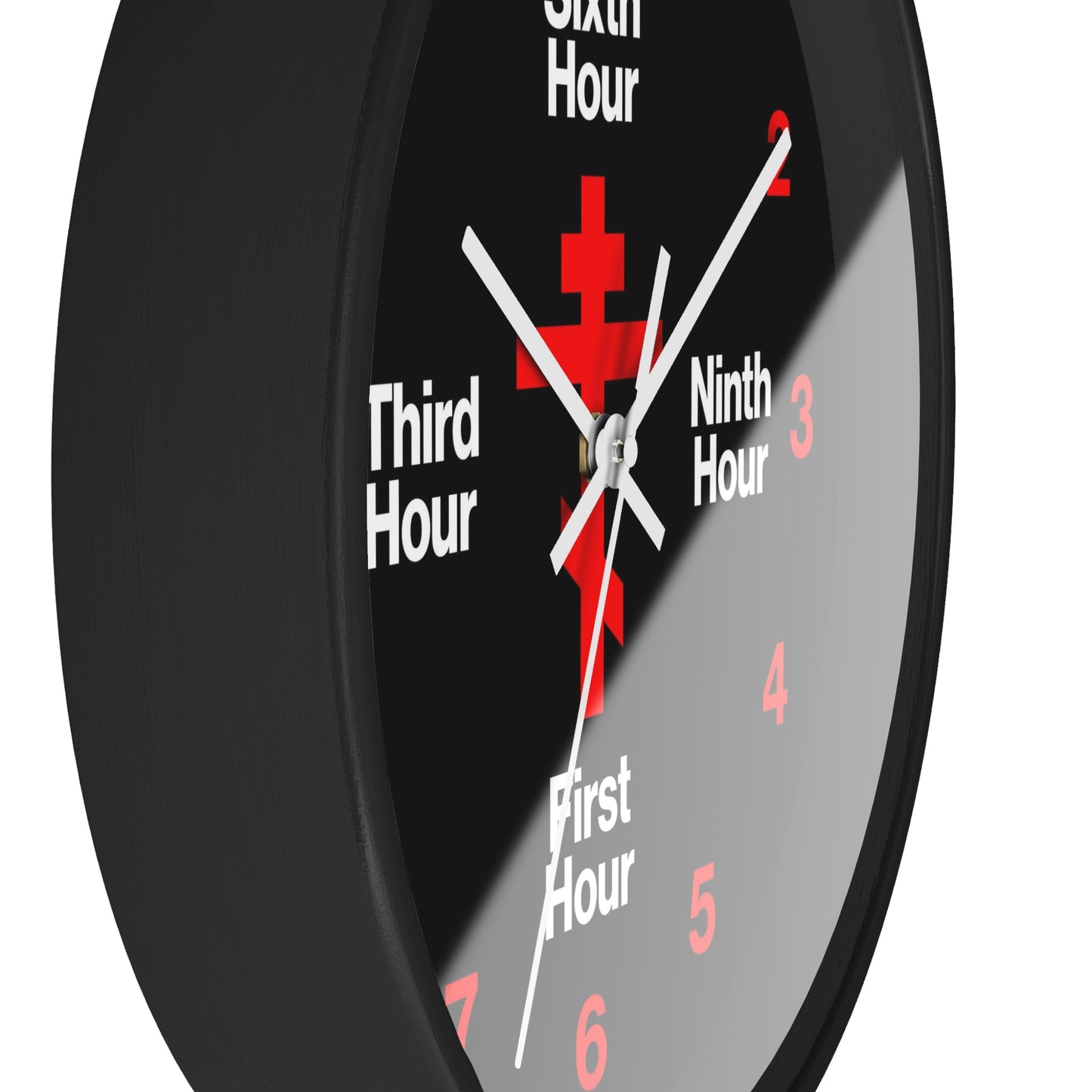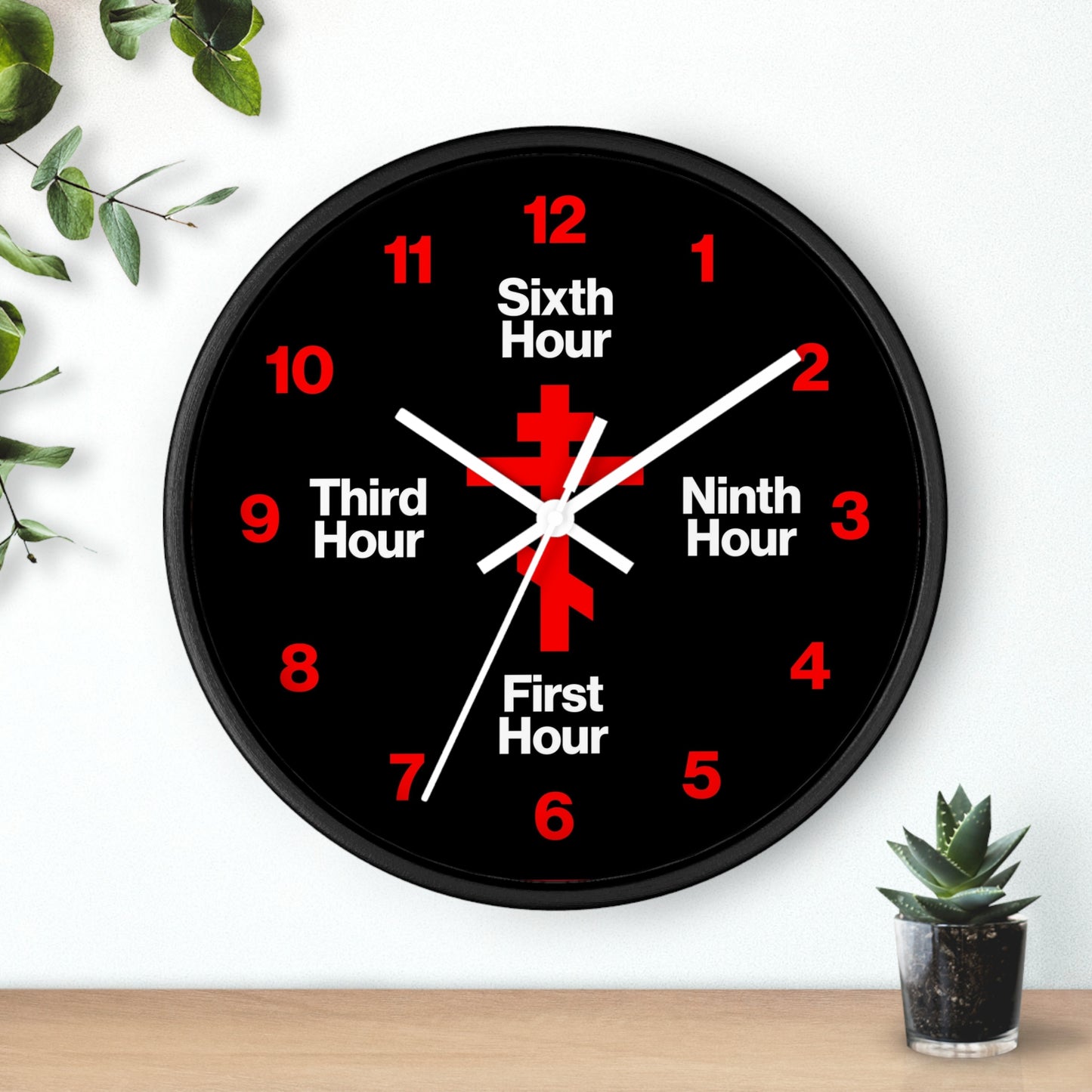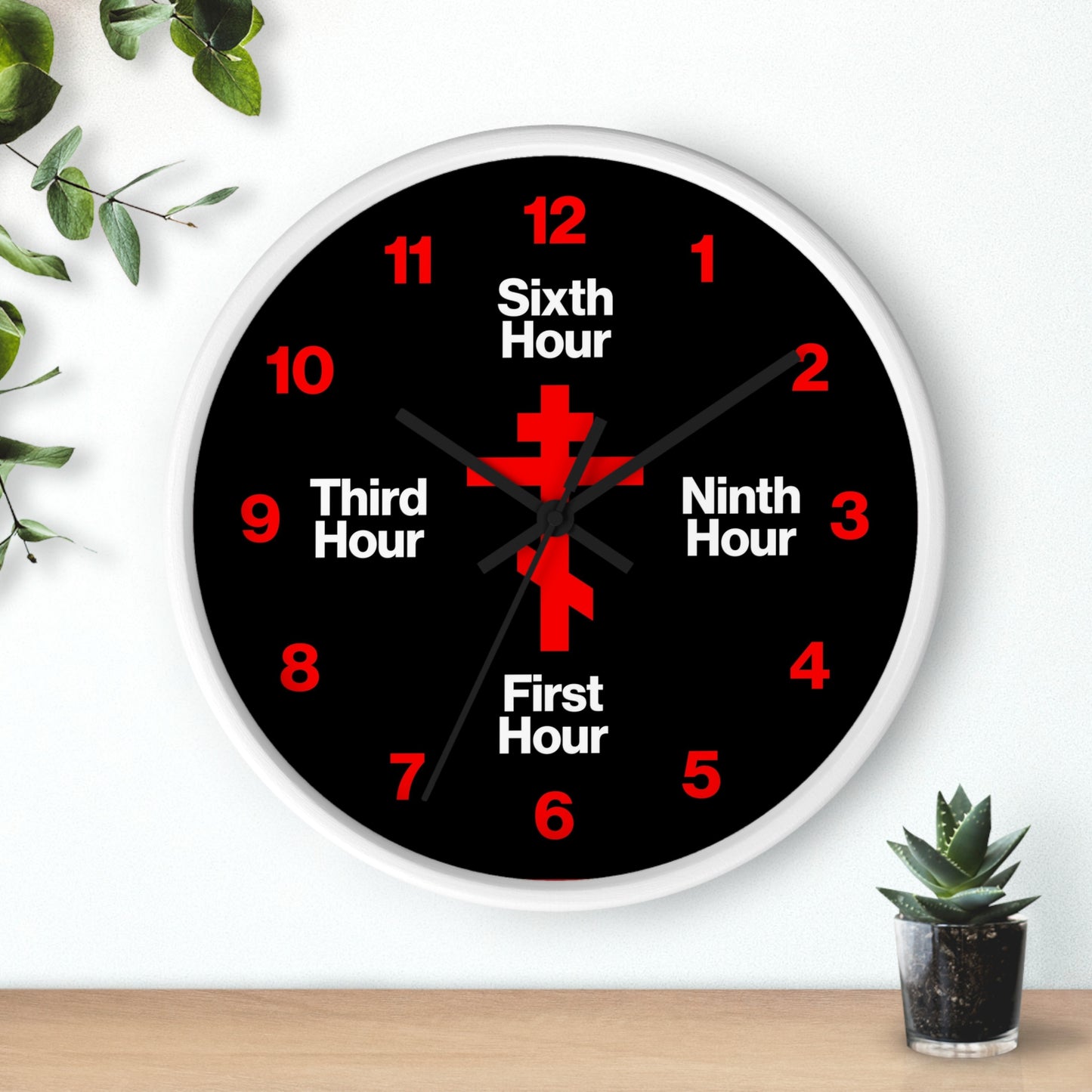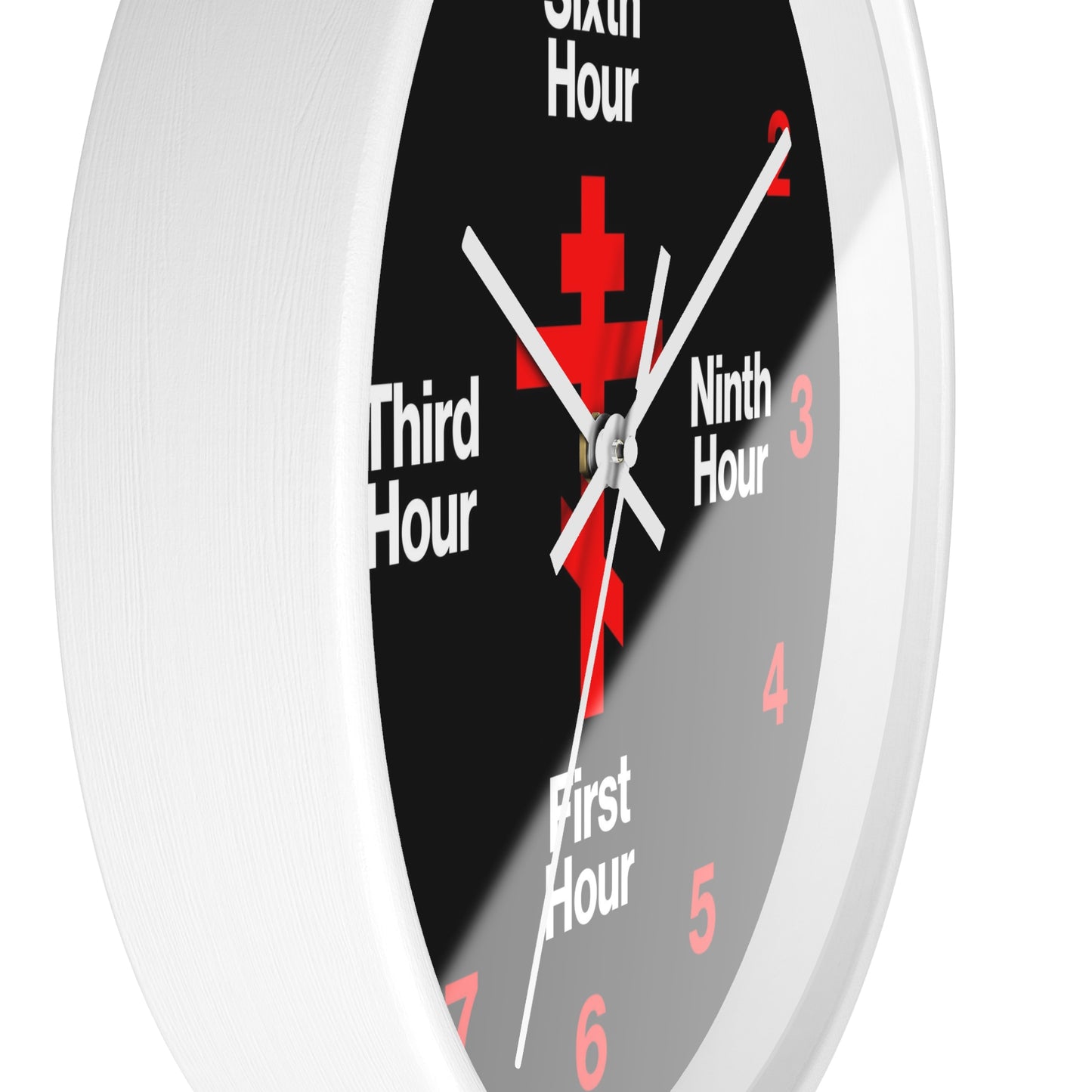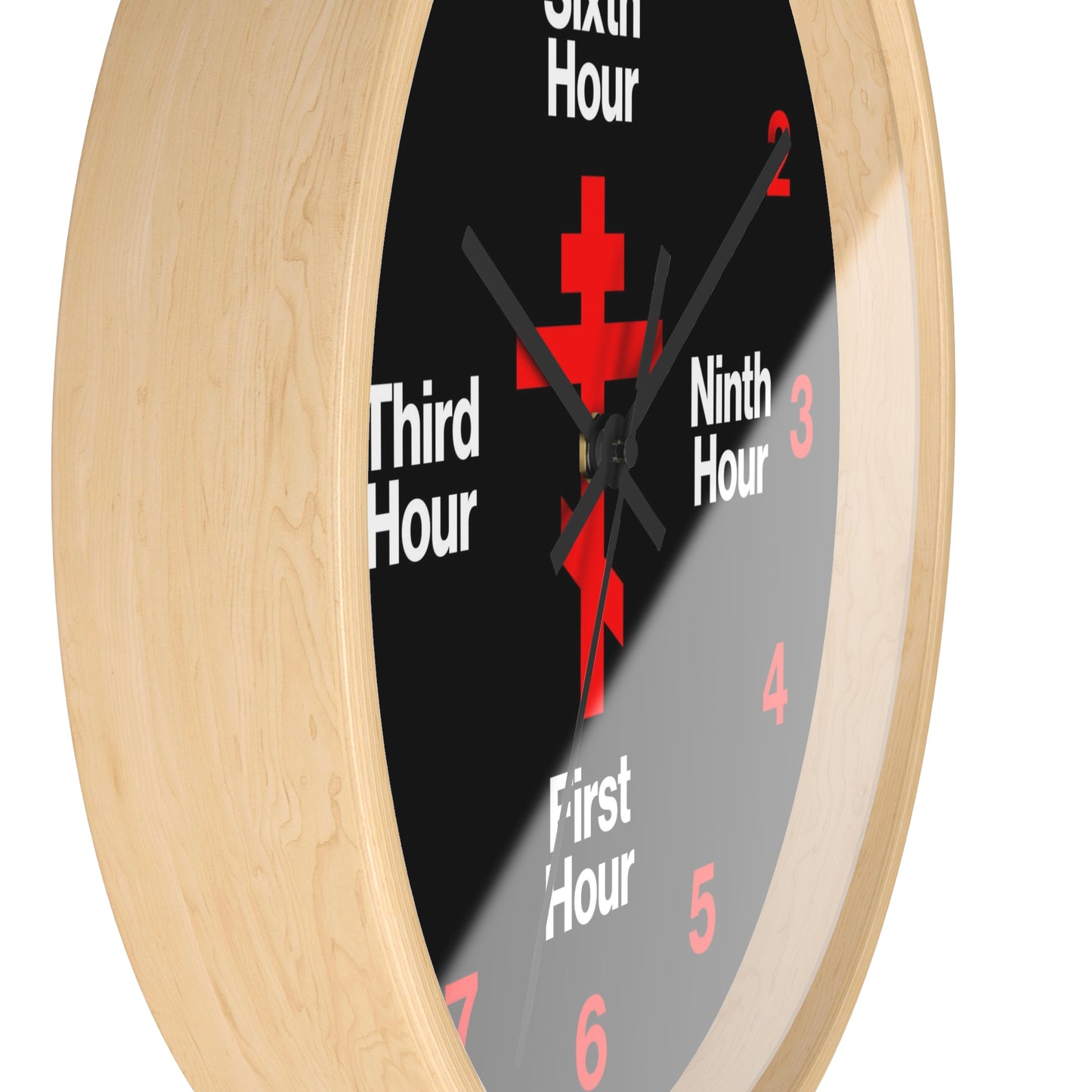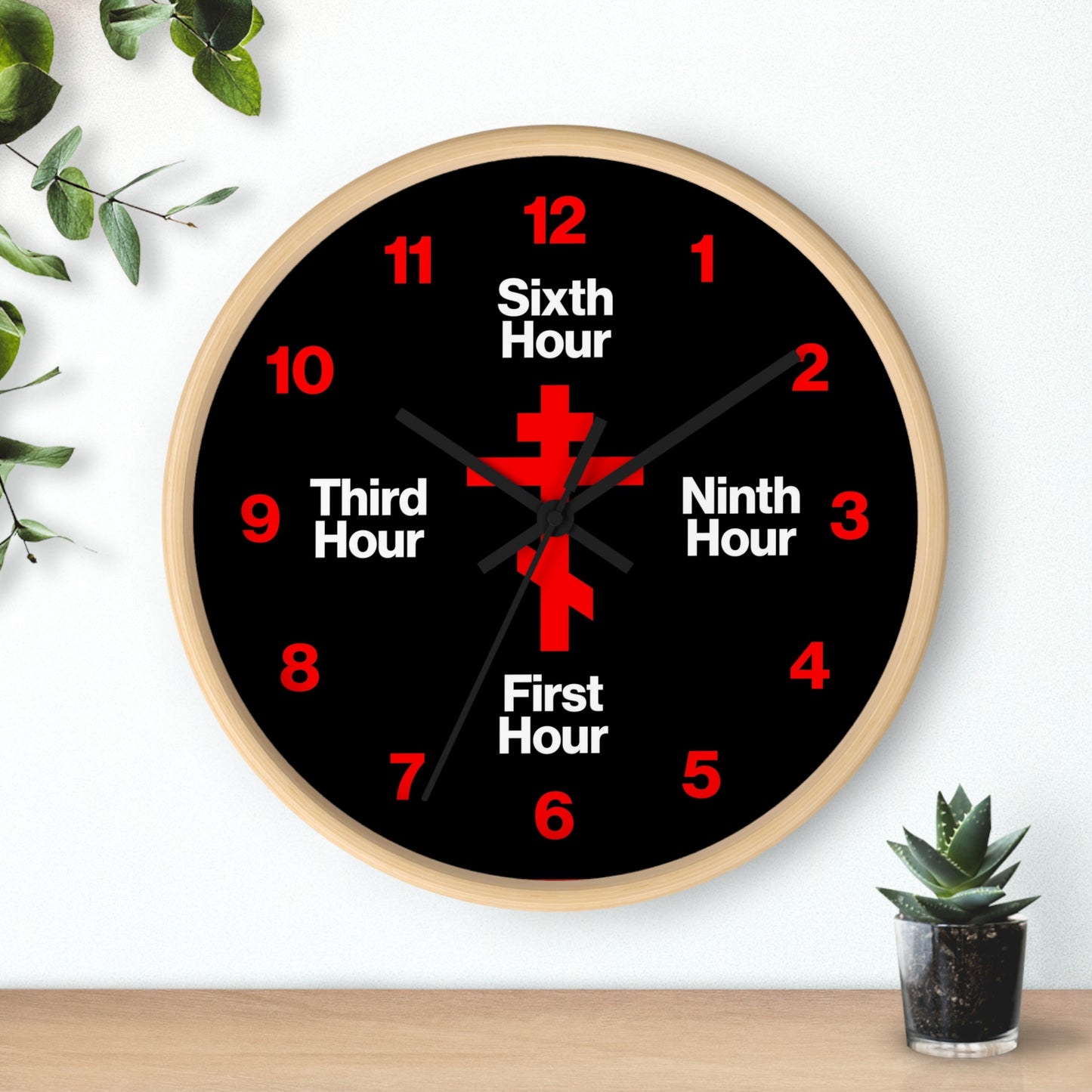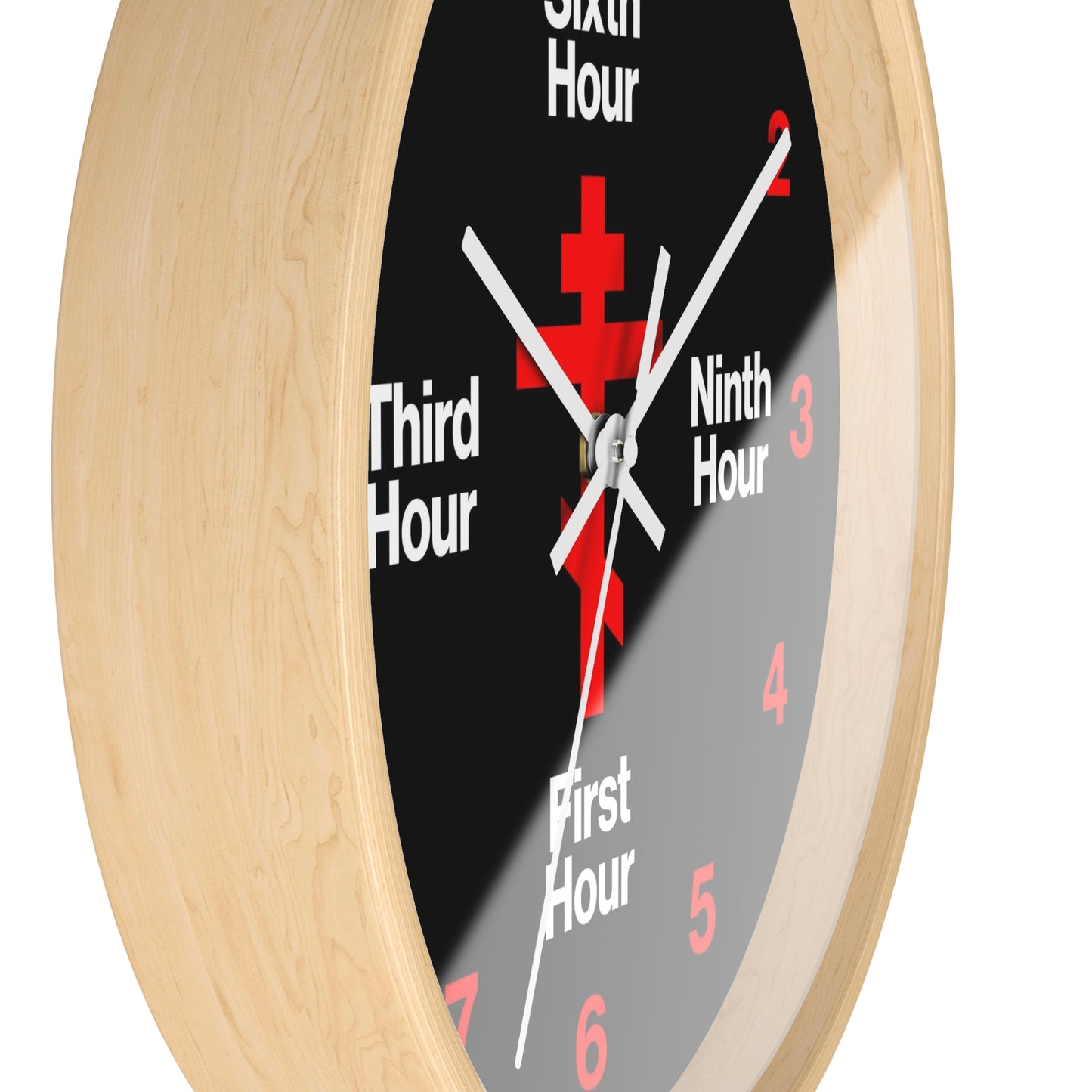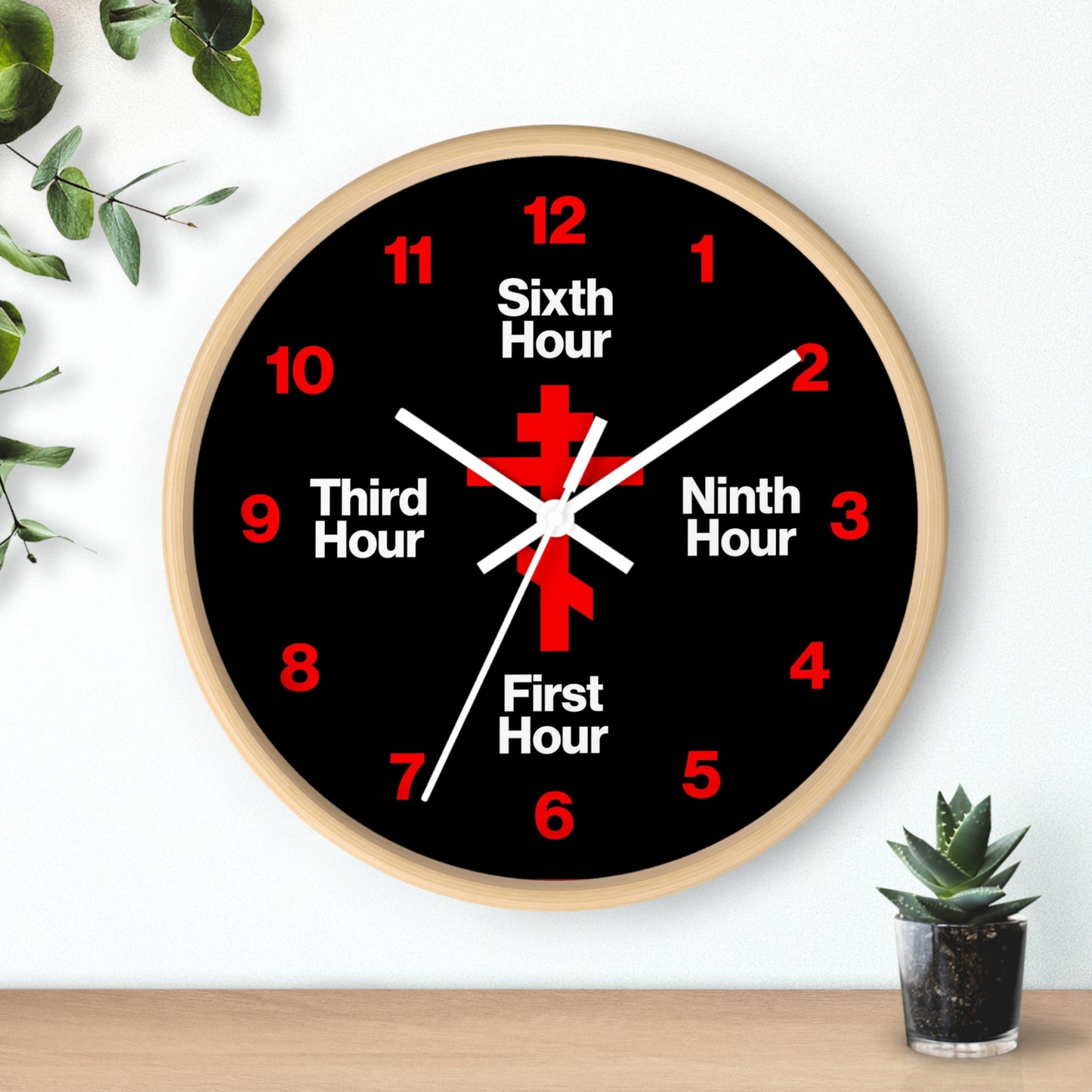 Product Update Emails
Subscribe to receive emails about products added to our store.